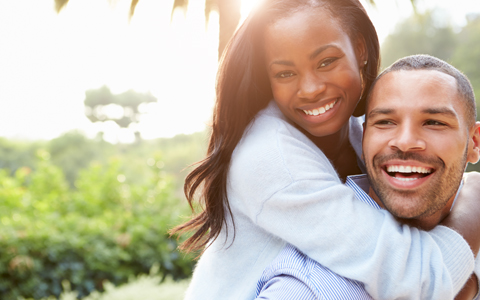 We really can't stress this enough: teeth experience lots of wear and tear as we grow up and age. It's really no wonder that people are drawn to treatments and procedures that keep their smiles looking and feeling beautiful.
Is there anything better than a cosmetic dental treatment that makes smiles beautiful and offer a host of other great benefits? We don't think so. That's why Sunflower Dental is pleased to offer the benefits of dental veneers to patients around Edwardsville, IL.
What Are Veneers?
Dental veneers are a type of cosmetic dental treatment that is applied to the surface of each individual tooth. Veneers are thin layers of material that adhere to the surface of teeth, working to both enhance the appearance of the natural tooth and to protect it.
Veneers can easily reshape a tooth to make it look more beautiful than ever before!
Types of Dental Veneers
There are two types of veneers: porcelain and composite. While porcelain veneers are placed in two or more appointments, composite veneers are placed in one. This is because porcelain veneers have to be produced in a high-quality dental lab whereas composite veneers can be created by the dentist right in the office.
Porcelain veneers tend to last longer than composite veneers and don't require maintenance. Composite veneers aren't as expensive as porcelain ones, and they can be easily repaired in the event of an emergency. Both types of veneers offer a range of benefits beyond that of enhancing a tooth's appearance.
Benefits of Veneers
When you have dental veneers placed on your teeth, you'll be getting more benefits than you expected, such as:
Aesthetics: Dental veneers give a smile an appealing uniform, consistent look.
Protection: Veneers can actually protect your teeth from cracking or chipping by adding a strong layer to the surface.
Stain Resistance: While made to imitate the natural appearance of a tooth, dental veneers don't get stained as easily as real teeth do.
Color Choice: The color of your veneers is carefully selected to make your tooth beautiful without standing out from the rest of your teeth.
Durability: Veneers provide your teeth with protection and beautiful uniformity for years.
You will love what dental veneers can do to remake your smile! This is just one of the cosmetic procedures we can offer to make your smile into one you love to share!
Design a New Smile Using Dental Veneers from Sunflower Dental!
Contact Sunflower Dental today with questions about veneers or to set up an appointment. We are ready to help you attain your new smile with our remarkable dental veneers today!