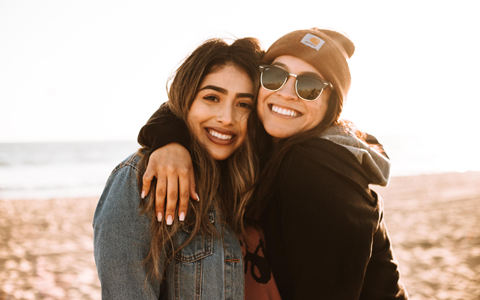 Seeing your teeth for the first time after years or months of orthodontic treatment is a great moment. You can physically see all the hard work and patience you put into straightening your teeth.
The traditional orthodontic treatment is a set of metal braces, but there are other options that can help you straighten your teeth. One such option is a set of Invisalign® clear aligners. Some patients love having this option available to them as they search for a way to straighten their teeth.
Has Anyone Talked to You About Invisalign® Clear Aligners?
Sunflower Dental offers Invisalign® treatment to patients looking to straighten their teeth in a way that is both convenient and comfortable. This straightening method uses clear trays that are fitted to the contours of your mouth.
These trays will slowly shift your teeth until they are straight. Every two weeks or so you'll be given a new set of Invisalign® trays that will move your teeth a little further. You'll have a perfectly straight smile in no time!
Dr. Dani often recommends Invisalign® clear aligners to patients who already had braces but have since then seen their smiles revert back to some level of crookedness. Invisalign® trays are also a great option for patients looking to straighten their teeth for the first time.
What Are the Benefits of Invisalign® Treatment?
There are some exciting benefits that come with Invisalign® treatment. With this orthodontic treatment you will:
Experience Easy Meals: You don't have to worry about food getting stuck in your braces or feel self-conscious about your smile. You can take your trays out to eat whatever food you'd like.
Feel Better: As you watch the progress of your treatment, you will start to love the new smile you are making through Invisalign® treatment!
Protect Your Gums: Your teeth and gums will actually enjoy a level of protection when you're wearing your Invisalign® trays.
Have Affordable Treatment: Straightening treatments can cost a lot, but we offer competitive, affordable pricing on Invisalign® treatment at Sunflower Dental!
We are excited to share these benefits with you here at Sunflower Dental!
What Are the Results of Using Invisalign® Clear Aligners?
The benefits of Invisalign® treatment go far beyond what you experience in the process. This remarkable treatment has far-reaching effects.
Beautiful Smiles
You will love your new smile when you are finished with Invisalign® treatment! It will be the kind of smile you want to share with everyone!
Confidence!
When you know you have a straight, healthy smile, you can go into any situation, either personal or professional, with a glow of confidence because you love your smile!
Healthy Mouth
Your beautifully straight teeth will be easier to clean, leaving fewer places for plaque and tartar to hide. When your teeth are easy to clean, you have a decreased risk for gum disease and dental decay. Your mouth can be healthier after you finish straightening your teeth!
Smiles, Family, Wellness
Invisalign® clear aligners help us fulfill our goals for your dental care. We are ready to offer you the benefits of a straight smile, both long and short-term, through this remarkable treatment. Contact us today to schedule a consultation!